Latest Works
Latest Works
These will be finished soon. Email us with inquires and pricing information.
Brunswick Butterfly Conversion
Brunswick Butterfly Conversion. Blue and White veneers into maple with Walnut. Fiber and Walnut rings. 3 pieces of birdseye make the segmented handle. Hoppe Style Butt. 2 shafts one with matching ringwork and one with none. 18oz. Moori Tips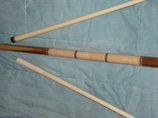 small batch
Top to Bottom - Brunswick Butterfly with Veneer Conversion(Green/White veneers), Purpleheart sneaky pete, Brunswick Butterfly conversion.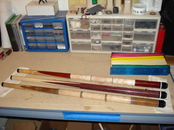 Sneaky Petes
When it comes to Sneaky Petes, we will only be making 10 a year outside of conversions. If you would like a Sneaky Pete, contact us on availability and pricing.